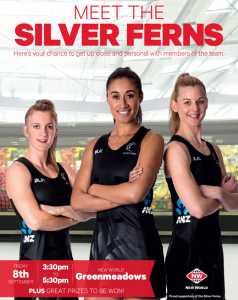 The Silver Ferns will be making a special visit to New World Greenmeadows on Friday 8th September 2017 where they will be doing everything from helping to pack groceries as well as giving netball tips to customers trying to win prizes. This year netball fans can also have their photo taken with a Silver Fern in front of the insta-photo booth! Make sure you hastag #newworldsilverferns (To WIN prizes)
There are tons of prizes to be one as well as the chance to win tickets to the Silver Ferns v England Roses Quad Series game at Napier's Pettigrew Arena on 10 September 2017.
Players will be available for photos, autographs and discussions on anything from where to find the Marmite in aisle three to tactics for their first international match of the season.
Join our event on facebook to stay updated. – Join here